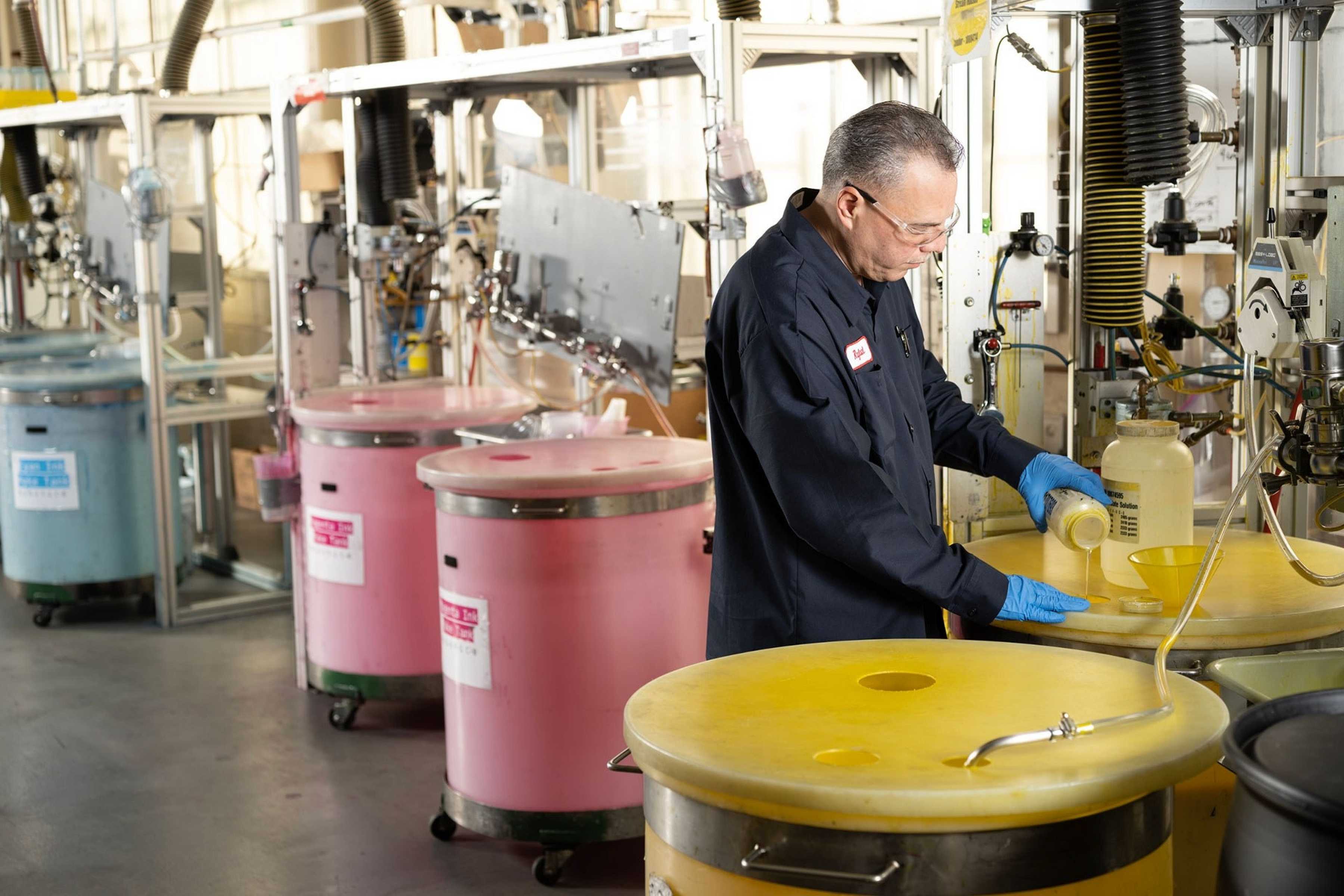 September 12, 2023 Rochester, NY
Kodak has developed optimized water-based ink and primer products for its high-speed continuous inkjet technologies – KODAK Stream and KODAK ULTRASTREAM Technology – that enhance the benefits of both technologies in all applications. As part of the launch of new brands that highlight Kodak's unparalleled heritage in advanced materials and chemicals as well as color, Kodak now introduces KODAK EKTACOLOR Inks and KODAK OPTIMAX Primers.
KODAK EKTACOLOR Inks: perfected for Stream Inkjet Technology
KODAK EKTACOLOR Inks used in Stream Inkjet Technology, including the KODAK PROSPER 7000 Turbo Press, KODAK PROSPER 6000 Press and KODAK PROSPER Imprinting Systems, are specially formulated to create brighter, clearer, punchier print, at speeds faster than any other commercial inkjet system on the market. EKTACOLOR Inks are available for both pigment and dye-based applications (PROSPER Imprinting Systems only), allowing maximum versatility for our customers.
Like the already announced KODACHROME Inks for the high-quality ULTRASTREAM Technology systems, including the revolutionary KODAK PROSPER ULTRA 520 Press, EKTACOLOR Inks are manufactured using Kodak's proprietary pigment micro-milling process, which creates extremely fine nanoparticle pigments with a very narrow size distribution. The finer pigments make the ink easier to jet, reduce light scatter, and deliver ultra-thin dried ink layers as well as a superior color gamut. Another common feature of EKTACOLOR and KODACHROME Inks is lower levels of humectants compared to inks from other vendors. This results in faster drying, even when printing with high ink coverage on difficult substrates. The inks contain no volatile organic compound (VOCs), which directly benefits sustainability and improves the working environment for press operators.
KODAK OPTIMAX Primers create optimized print surfaces for a huge variety of substrates and applications
As a complement to EKTACOLOR and KODACHROME Inks, Kodak has launched a range of KODAK OPTIMAX Primers. By applying these primers, printers can avoid using expensive inkjet-treated papers and other specialty substrates. OPTIMAX Primers improve ink receptivity, ink adhesion, rub resistance, and image quality across a huge variety of substrates, including paper, cardboard, plastic, film, and even metalized materials. In addition, OPTIMAX Primers facilitate the recyclability of printed products by improving deinkability.
Kodak offers an OPTIMAX Enhanced Primer for coated papers and an OPTIMAX Standard Primer for uncoated papers. OPTIMAX Packaging Primers are available for uncoated and coated corrugated and folding carton packaging applications, personal care products, as well as for non-absorbent substrates such as plastic and film. KODAK OPTIMAX Primers reduce a printer's reliance on expensive, hard-to-source specialty substrates and enhance the durability and color clarity of print applications.
"With over 55 years of experience under our belt, no one knows inkjet better than Kodak. We leverage this deep expertise to create the inks and primers that are used in our KODAK Stream and ULTRASTREAM Inkjet Technology product lines. The introduction of KODACHROME and EKTACOLOR Inks and OPTIMAX Primers is just one example of the innovation and competitive differentiator that we continue to deliver to customers," commented Jim Continenza, Executive Chairman and Chief Executive Officer, Kodak. "Along with our high-speed continuous inkjet technologies, these inks and primers create a complete inkjet ecosystem with perfectly matched components, all developed and manufactured in-house by Kodak. This helps printers produce a huge variety of applications efficiently, productively and profitably."